N-(n-Butyl)thiophosphoric triamide (NBPT)
Structural formula: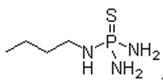 Formula:
C4H14N3PS Molecular weight:167.2 CAS No:94317-64-3

Traits:
White to off-white powder, melting point: 56-60℃; very soluble in halohydrocarbon, insoluble in water.

Product Usage:
As an important urease inhibitor, NBPT is one of the most successful additives utilized to increase the efficiency of urea-based fertilization, prevent the loss of ammonia nitrogen.

Mechanism of action:
Inhibit the activity of urease and slow down the conversion from urea to NH4+, hold N by urea form in a long term. It will decrease the concentration of NH4+ in soil solution, reduce potential volatilization loss and prevent harm to seedlings.

The most suitable concentration to add: 0.2% of total urea nitrogen.

Packaging, storage and transportation:
25 kg cardboard drum, 500 kg bag or according to customer requirements.

Quality Index:
| | |
| --- | --- |
| Items | Specification |
| Appearance | White To off-white crystalline solids |
| Identification | by IR |
| Melting Range | 56-60℃ |
| Loss on Drying | ≤1.0% |
| Assay by HPLC | ≥97.0% |