Propylene glycol phenyl ether (PPH)
Structural formula: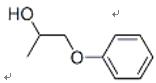 Molecular formula:C9H12O2 Molecular weight:152.19 CAS No: 770-35-4

Traits:
Colorless to light yellow transparent liquid, boiling point 242.7°C, density 1.1045~1.1065.

Product Usage:
PPH is nontoxic and environmental and has remarkable impacts on reducing the VOC of the coatings. Because of high boiling point, good miscibility, moderate evaporation rate, good coalescing and coupling ability, PPH can provide excellent flow and leveling, luster, film build. As a high boiling point solvent and performance additive, PPH can substitute for Isophorone, benzyl alcohol, ethylene glycol ether.
PPH is widely used in building coatings, top-grade automobile coatings, automobile repair coatings, electrophoresis coatings, shipping and container coatings, furniture coatings. It is also used as protective agent in printing ink, paint remover, adhesives, insulated materials, cleaning agent, plasticizer; also used as agent for dissolving of textile and dye.
Quality Index:
| | | | | |
| --- | --- | --- | --- | --- |
| Specification | PPH-93 | PPH-95 | PPH-99 | PPH-995(DOWANOL™ PPh GLYCOL ETHER) |
| Appearance @ 25°C | Colorless to slight yellow transparent liquid | Colorless to slight yellow transparent liquid | Colorless transparent liquid | Colorless transparent liquid |
| Assay, % | ≥93 | ≥95 | ≥99 | ≥99.5 |
| pH | 6.0±1.0 | 6.0±1.0 | 7.0±1.0 | 7.0±1.0 |
| Color(APHA) | ≤100 | ≤100 | ≤50 | |
| Water,% | N/A | N/A | ≤0.5 | ≤0.5 |
| Free phenol,ppm | N/A | N/A | N/A | ≤50 |