Alkyl Polyglycoside 06 (APG 06)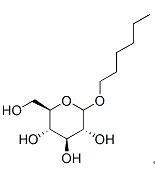 Carbon chain length: C6 CAS number: 54549-24-5

Properties:
Viscous, colorless and transparent liquid

Product Usage:
APG 06 is a low carbon chain product, the main character is no bubble, and good property for anti-bubble in the formulation system. APG 06 is not only with excellent water-solubility, compatibility in strong alkali and electrolyte solution, but also could dissolve some compound that not easy to dissolve in water, so it is suitable for machine cleaning, especially in food production field. Meanwhile, APG 06 could be used as solubilizier in the system of low bubble, and as desiccant with remarkable effect.
Packaging, storage and transportation:
200 litre plastic bucket, 1000 litre IBC ton bucket or according to customer requirements.

Quality Index:
| | |
| --- | --- |
| Specification | APG 06 |
| Appearance @ 25°C | pale yellow sticky liquid |
| Solid content, % | 75%±2% |
| pH(20% in 15% IPA aq.) | 7-9 |
| Viscosity @ 20°C | 500-2000 |
| Free Fatty Alcohol, % | ≤1.0 |
| Sulfate Ash,% | ≤3.0 |